Details

Published on Wednesday, 07 March 2018 17:53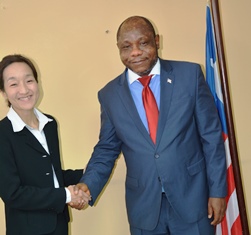 Monrovia, Liberia - A seven-man IMF Article Four Consultation Team is in the country to hold series of discussions and technical meetings with various stakeholders, including authorities at the Ministry of Finance and Development Planning, as a way of assessing the status of the country's economy.
Acquainting Finance and Development Planning Minister, Hon. Samuel D. Tweah, Jr., on the objectives of the visit, Mika Saito, Deputy Division Chief, Western II Division of the African Department of the IMF, outlined the Mission's objectives, detailing a number of issues the team will explore during its visit to Liberia. Among them, she said the IMF team was interested in knowing the government's medium-term vision, as well as its plan for achieving that vision over the next five years. The IMF official also said the mission was also interested in knowing what economic managers of the new government see as the most challenging issues that may stand in the way of actualizing government's vision, and how they thought the IMF could assist in achieving it.
She also disclosed that macroeconomic stability was the overriding principle of the Article IV Consultation, and indicated that all of the fiscal and monetary, as well as structural issues that impact stability will be examined during the course of the consultation.
For his part, Minister Tweah described the IMF as "arguably the most critical international partner that we have to deal with", describing it as an anchor for the support of multi-national institutions, due to their reliance on the critical reports of the IMF arising out of these consultations.
Minister Tweah said he had hoped that the conversation would be more backward-looking instead of focusing merely on the future, so that a new foundation about the conversation of the future could be set adequately. Minister Tweah said it was firstly important to assess the impact of the IMF in Liberia, considering the fact that despite its engagement with the country over the past twelve years, when Liberia enjoyed enormous support from the IMF and other international institutions, there were still unacceptable levels of poverty across the country. He told the visiting IMF Team that the election of President George M. Weah late last year was almost "singularly a huge rejection of what has happened in the country over the last twelve years, because people have not seen the dividends from the significant inflow of resources."
Minister Tweah told the IMF team that the vision of President Weah is to turn that situation around, and had mandated that every dollar of budget resource accounts for its maximum impact. He said as a result of that mandate, the key message to the IMF was that "in the new Liberia, you have a partner dedicated to ending poverty in Liberia and not paying lip-service to it".
The IMF Article Four Consultation Team will be in the country for two weeks.