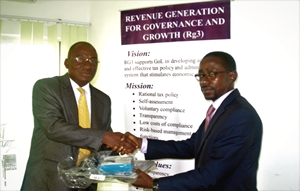 Monrovia, Liberia - The United States Agency for International Development (USAID) has contributed ten laptops to the Ministry of Finance and Development Planning to enhance capacity building of the Revenue and Tax Policy Division.
Speaking at the ceremony, at USAID's Revenue Generation for Governance and Growth Project Office (RG3) in Sinkor, the Contracting Officer Representative (COR) of USAID Mr. Roosevelt Tule, said ''We hope that these computers help to provide the Ministry of Finance and Development Planning with added support in the discharge of its functions and responsibilities."
In brief remarks, Hon. T. Ojuku Nyenpan, Assistant Minister for Revenue and Tax Policy conveyed thanks on behalf of the senior management team of the ministry, and emphasized that partners like USAID/RG3 help boost efficient and effective administration.
The RG3 Project has been a key player towards the development of tax policy reforms: training in international best practices of excise taxation; study tour on excise tax stamps; training on the principles of value added tax, etc.