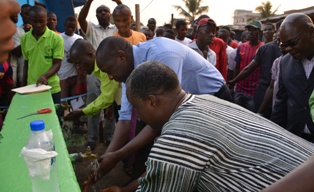 Monrovia, Liberia - Liberia's Finance and Development Planning Minister Amara Konneh has assured residents of Nippy Town Community that the Government remains committed in providing basic social services for all Liberians, including safe drinking water, electricity and access to good road network.

Speaking at the dedication ceremony of seven hand pumps in Nippy Town Community, Old Road on December 23, 2014, Minister Konneh said government is doing everything within its power to address the many challenges facing Liberians, despite the resources constraints and the crippling economic impact of the Ebola Virus Disease (EVD) on the country.

"The most important asset of a country is its people, and therefore, spending the country's money on the people is of great importance," he noted.

The Fiscal Manager disclosed that the hand pumps project was sponsored by the Liberian government in collaboration with the Old Road Center for Intellectual Discourse (ORCID).

The Minster urged the community leadership and residents to protect the pumps and consider it as their own property.

Worth US$28,000 dollars, the project was highly appreciated by residents of the community, many of who praised Government for its farsightedness in seeking the welfare the citizenry.