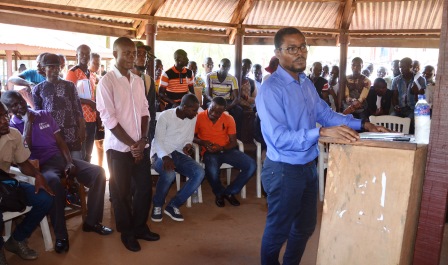 The Liberia Macroeconomic Policy Analysis Center (LIMPAC) of the Ministry of Finance and Development Planning (MFDP) , On Friday June 2, 2017 contributed L$1,0000,000 (One Million Liberian Dollars ) to raise the hope of hundreds of students of the University of Liberia who feared being dropout for the second semester of academic year 2016/2017.
Presenting the check donation on behalf of Finance and Development Planning Minister Hon. Boima S. Kamara; the Executive Director of LIMAPC Mr. Del Francis Wreh, cautioned the leadership of ULSU, SUP and the general student populace to remain constructively engaged with University leadership and stakeholders within educational sector as they pursue their academic studies.
Mr. Wreh explained that Minister Kamara's intervention was based on a request made by the leadership of the University of Liberia Student Union (ULSU) to the Ministry of Finance and Development Planning. Director Wreh said Minister Kamara who is also Chairperson of the Board of Management of LIMPAC saw it prudent to support the student scholarship fundraiser, in line with LIMPAC's strategic plan to support the human development and capacity building needs of Liberia, especially during this current period of economic challenges for students and the their parents or sponsors.
Accordingly, he said "Minister Kamara also felt the need to support the student because he (Kamara) was once in similar position of looking up for scholarship to pursue education during his days as a student of the UL and it was time for him to return the favor"
Mr. Wreh said, when ULSU made the request for over 2700 needed students, Minister Kamara saw the need to help, because every sector of the economy needs to be productive, and supporting the students at this initial stage of their professional development makes sense for human capacity development and the minister is glad that the government can help in this direction.
Mr. Wreh also commended student Martin Kollie of the Press and Propaganda Bureau of the Student Unification Party (SUP) and entire leadership of SUP for being instructmental in advocating for support to ULSU Scholarship and Financial Aid Program to the benefit of his colleagues and students. For his part, Jerome Danquiah Acting President of SUP lauded Minister Kamara for what he termed as 'great' help in restoring the hopes of students. Binda assured the minister that monies will be used for the intended purpose.