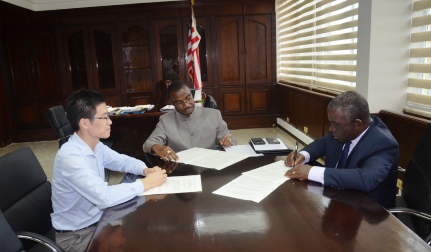 Monrovia, Liberia - A framework agreement between the Governments of Liberia and the People's Republic of China for the provision of over US$50 million (350 Million Chinese Yuan) concessional loan for the upgrade and expansion project of the Roberts International Airport has been signed in Monrovia.
The maturity of the loan is for 20 years with an annual loan interest rate of 2 %.
According to a release from the Ministry of Finance and Development Planning (MFDP), the bilateral agreement, which is in accordance with further developing the friendly relations, economic and technical cooperation between the two countries; states that the People's Republic of China has agreed for EXIM Bank of China to provide the Government of Liberia with the concessional loan.
Finance and Development Planning Minister, Boima S. Kamara and Justice Minister, Counselor Fredrick Cherue, signed and attested respectively, on behalf of the Liberian Government. In a brief statement, MinisterKamara described the rehabilitation of the RIA as key to Liberia's economic transformation, thus leading to an increase in the airport's capacity to serve more flights, passengers, reinvigorate the economy and grow tourism.
According to the release, MinisterKamara described the agreement as a major step towards bringing the airport up to standard, adding that the support shows Liberia's strong partnership with China and alsoreaffirmedPresident Ellen Johnson Sirleaf's commitment to implement the Agenda for Transformation, describing the project as an important symbol for Liberia.
With the signing of the framework agreement between the two Governments on Wednesday, September 21, 2016,the Liberian Government through the MFDP, is expected to sign the concessional loan agreement with the creditors, the EXIM Bank of China.