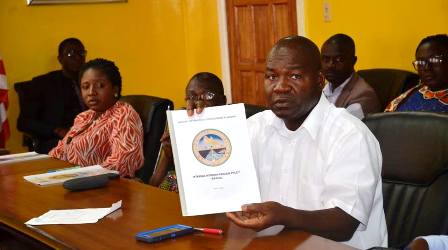 The Ministry of Finance and Development Planning (MFDP) has officially launched for the first time an Internal Business Process Policy Manual to improve customers service relations, increase productivity, save cost, and reduce processing time at the Ministry.

The policy Manual aims to induce fast turnaround time in document processing, and reduce bureaucratic bottlenecks that are creating delays in processing of transactions.
The Manual ensures the National Budget Execution processes are based on well-established procedures and good financial management practices that are geared toward the efficient and effective achievements of its operation.
The Manual at the same time identifies punitive measures against those who will default on their responsibilities consistent with civil service standing orders.
Speaking at the launching ceremony held at the Ministry Wednesday, August 17, 2016, the Deputy Finance Minister for Administration, Edward Eesiah challenged employees to make maximum use of the document, as it would help to improve service delivery at the Ministry.
Minister Eesiah said the Ministry has made investment in creating the Manual and therefore urged employees to legalize the document to provide efficient and effective customer service.