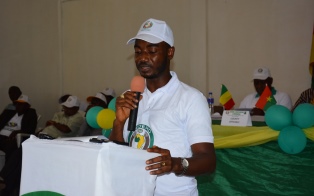 Ganta, Nimba County – Finance and Development Planning Minister, Hon. Boima S. Kamara has officially launched the First ECOWAS Sensitization and Awareness Campaign under the auspices of the ECOWAS Chairperson Coordinating Committee (ECCC) and the Technical Working Group (TWG).
According to a Ministry of Finance and Development Planning release, Minister Kamara was speaking in Ganta, Nimba County where he declared the event opened. He recalled that following the election of President Ellen Johnson Sirleaf as Chairperson of the Authority of the ECOWAS Heads of State and Government in Dakar, Senegal on June 4, 2016, Liberia's illustrious leader presented a 4-Pillar Priority Agenda in her acceptance speech including: The consolidation of Peace, Security and Good Governance; The improvement of Economic and Financial Stability in the Community; The conclusion of all community legal text including trade agreements and the ratification and domestication of Protocols; as well as The Transformation of "Vision 2020" with emphasis on institutional reforms in the community.
He told the gathering that President Sirleaf informed the world at large, that during her tenure as Chairperson, the four-Pillar Agenda would be implemented prior to turning over to a successor.
Reminding the audience that President Sirleaf's tenure ends in May 2017, Minister Kamara said there is compelling need to fully implement the 4-Pillar Agenda, which takes into account, peace, security and good governance; the economy and finance, trade agreements and institutional reforms amongst others. He said as a first step towards achieving this objective, the Technical Working Group (TWG) through its legislative engagement ensured the passage and ratification of 32 longstanding ECOWAS Protocols. He however said it became expedient to sensitize the citizenry on the importance of these various instruments and as such the TWG decided to organize the first sensitization and awareness campaign in Bomi County.
He said the importance of increasing awareness across Liberia, particularly at strategic points linking Liberia to key border towns in Guinea, Cote d' Ivoire and Sierra Leone cannot be overemphasized especially given their strategic locations.
Minister Kamara pointed out that in our attempt to create and increase awareness on the 4-pillar Agenda, the administration was aware that a vast majority of the population and other ECOWAS citizens residing within the borders of Liberia are not fully informed about the benefits, challenges and prospects on the various ECOWAS activities. "It is within the context of this understanding - that this program is organized to herald the sensitization process". He said although several vital issues of importance have been identified to inform the discussions but was quick to note that particular emphasis will be placed on the free movement of persons, goods and services under the concept of promoting the "ECOWAS of People Agenda."
He re-emphasized that as government continues to lend full support to the successful implementation of ECOWAS 'VISION 2020'; the issue of free movement within our region remains key in enhancing citizens' participation in all ECOWAS' activities as well as ensuring the promotion increased visibility of ECOWAS programs. According to him, ECOWAS Vision 2020 is built on five thematic principles with this vision Statement: "To create a borderless, peaceful, prosperous and cohesive region, built on good governance and where people have the capacity to access and harness their enormous resources through the creation of opportunities for sustainable development and environmental preservation".
The five thematic principles of the ECOWAS Vision 2020 include - Regional Resource Development, Peace and Security, Governance, and Private Sector. Each of these five thematic principles is defined as follows:
Regional Resource Development: it is envisioned under this principle that an inclusive society achieved through human capital development and empowerment, offering a peaceful and healthy environment where women, children, and youths thrive and have equal opportunities to excel and have equitable access to resources for human and social development;
Peace and Security: proposes a secure and socially cohesive West Africa devoid of conflicts, whose leaders and people place high premium on peace and collective regional security, effective operation of an ECOWAS regional defense and security system that will effectively combat illegal arms and drugs. There will be conscious and sustained collective effort to eliminate social discrimination or exclusion and there will be demonstrable strong drive to inculcate acceptance of socio-cultural diversities of the region as a positive factor that enriches life in the region.
Governance: Indicates a unified region that is integrated into the continental and global economic space and governed using the principles of good political and economic governance, transparency and accountability in the use of public resources and where fundamental human rights are practiced and respected.
Economic and Monetary Integration: This principle suggests a single unified regional market with common currency supported by an integrated and efficient financial market and payment system; and ECWAS of people where trade and commerce are conducted effectively and with ease.
Private Sector: provides an ECOWAS of people with a conducive policy environment in which the private sector will be the primary engine of growth and development, an integrated regional production base developed by competitive private sector activities which provide production and distribution levers for deeper regional integration and development, supported by an efficient ECOWAS business body that provides strong public-private partnerships for generating wealth to sustain the development and prosperity of the region.
Minister Kamara argued that in order to make the ECOWAS Vision a reality, Member States and other regional organizations must now give full support to the domestication and implementation of all legal instruments relative to the free movement of persons, goods and services as well as other protocols. "An 'ECOWAS of People' can only be attainable when there is absolute free movement between Member States. Jointly, it is possible. Let's go for it," Hon. Kamara voiced.
He challenged the Technical Working Group to go further in organizing Joint Meetings and Workshops with other sisterly ECOWAS National Offices, relevant security agencies, Civil Society Organizations and Trade facilitators in Member States with the view to harmonizing the information to be disseminated to citizens within strategic cross-border towns. "It is my conviction that when done, this will contribute extensively to the promotion and acceleration of the economic integration process including regional cooperation and in particular, making real, Her Excellency Madam President's promise to deliver on the 4-Pillar Agenda during her tenure as Chairperson of ECOWAS Authority," he concluded.