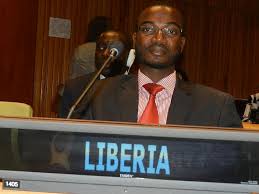 Liberia's Finance and Development Planning Minister, Hon. Boima S. Kamara, at the head of a three-man delegation, joined his counterparts from across the continent in Addis Ababa, Ethiopia from August 7 to 9 to assess the status and accelerate implementation of the decisions of the Assembly of Heads of States and Government to ensure financial autonomy of the Union by 2020.
It can be recalled that the Johannesburg 2015 Decision committed member states to "assume responsibility for 100% of the operating budget, 75% of the program budget, and 25 % of the peace support operations budget", while in demonstration of this commitment, the Kigali 2016 Decision obligated member states to institute and implement a 0.2 percent levy, with effect from 2017, on eligible imported goods to finance the AU's operational projects, programmes and peace and security operations budget.
In a Communiqué issued on August 9, 2017, the African Union Finance Ministers meeting in Addis Ababa underscored the urgency of implementing the above mentioned decisions especially in the wake of continental and global economic developments. According to the Communique, the Ministers of Finance have considered and agreed on most effective ways to see through decisions by taking into account "the varying national legislative procedures, constitutional obligations, regional and international trade agreements".
Additionally, the Communique mentioned that the African Union Ministers of Finance welcomed the Committee of Ten Finance Ministers (F10) recommendations that after funding the budget of the African Union and the Peace Fund, any balance of proceeds from the "0.2 percent levy on eligible imports" be retained by Member States to be used for their own development activities. The F10 comprises Finance Ministers representing the different regions of the continent.
Meanwhile, the African Union Finance Ministers at the just ended Addis Ababa Meeting have recommended a more robust sanctions regime that incentivizes Member States to pay their due. The recommendation is expected to be adopted by the forthcoming January 2018 Assembly of Heads of State and Government.
Liberia's Minister of Finance and Development Planning Hon. Boima S. Kamara was accompanied to the Addis Ababa gathering by MFDP's Assistant Minister for Revenue and Tax Policy, Hon. T. Ojuku Nyepan and Director of Direct Tax, Molley Kiazolu. The two officials represented Liberia at the Technical Meeting of Experts that preceded the Finance Ministers' Meeting.