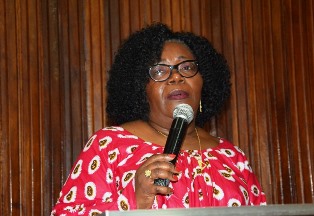 Monrovia, Liberia -ECOWAS National Office at the Ministry of Finance and Development Planning in partnership with the ECOWAS Volunteers program on Monday, February 19, 2018 inducted twenty (20) volunteers from Ghana, Benin, Sierra Leone and Nigeria at a welcoming and induction ceremony held at the Cecil Dennis Hall at the Ministry of Foreign Affairs. The volunteers are mainly young specialists in various fields of human endeavors supporting a regional initiative to strengthen peace-building, national reconstruction and enhance development in Liberia.
Speaking during the ceremony, Deputy Minister for Budget and Development Planning, Hon Tanneh G. Brunson underscored that robust measures are needed to address the challenges confronting Liberia and expressed gratitude that the young professionals have voluntarily signed up to assist the country through the ECOWAS framework utilizing their professional skills and competencies . '' I think as volunteers, your selection process was vigorous. I therefore have no doubt that the crew we have here is the best. You will not only be volunteers but mentors. So your task is huge. We have lots of challenges and you are here to help us fix those challenges'' she added. The Acting Finance and Development Planning Minister further stated, "as Government and people of Liberia, we hold all twenty volunteers to your oath to support and help us fix those challenges both in the urban and rural area of Liberia".
For their part, Dr. Remi Sogunro UNFPA's Country Representative and Dr. Miriam Chipimo Country Director of UNAIDS speaking separately during the occasion generally lauded the volunteers and encouraged them to utilize the opportunity to impart the knowledge and skills to other colleagues in different sectors.
In line with its Vision 2020, ECOWAS set up the Volunteer Program that cuts across all areas/sectors of activities of the ECOWAS Commission and other Community institutions to serve the needs of Member States. The program seeks to consolidate peace, recovery, national reconciliation and rehabilitation in crisis-affected communities, with the volunteer corps strengthening the capacities of local organizations by assisting them in the development and implementation of core projects and program.

Other key roles of the ECOWAS volunteers include promoting a culture of peace and gender equality in their host communities, establishing and supporting partnerships between communities, linking up communities with technical and financial support services and networking and collaborating with development partners.

The twenty volunteers from the sub region will help in the areas of agriculture, education, health, youth and sports, gender, social and children protection.

The induction ceremony was attended by officials of Government, Ghanaian Ambassador H.E. Ernest B. Asare-Asierdu representing ECOWAS Ambassador to Liberia, Director of ECOWAS Youth and Sports, Hon. Francis Njoaguani, representatives from Ministries of Agriculture, Education, Health, Gender, Children and Social Protection, development partners among others.