Details

Published on Thursday, 24 July 2014 13:44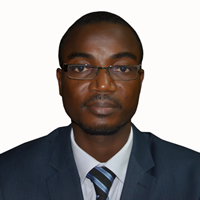 Honorable Boima S. Kamara is the current Minister of Finance and Development Planning of the Republic of Liberia. Appointed on May 13, 2016 by President Ellen Johnson Sirleaf, he became only the second person to hold the post since the ministry was established through an Act of National Legislation in 2013, replacing Minister Amara M. Konneh.
Prior to becoming Minister, he served as Deputy Governor of the Central Bank of Liberia for Economic Policy. In that position, he was responsible for macroeconomic governance, specifically, Debt and Economic Management, inclusive of which was the mandate to achieve low inflation and a stable exchange rate in the country. His contributions were pivotal to Liberia's sustained GDP growth rate achieved over the period 2008-2013.
As Deputy Governor for Economic Policy, he had the privilege and opportunity to work with counterparts and colleagues from the Ministry of Finance and Development Planning, the ministry he now heads, and gained valuable experiences on various fiscal issues and challenges affecting Liberia through those interactions.
Honorable Kamara spent more than 14 years of his professional career at the Central Bank, and served with distinctions in a number of mid-level to senior positions as Junior Analyst, Economist, Assistant Director and Director of Research Policy and Planning.
While serving at the Bank, and in his immediate past position, he had numerous engagements with Liberia's development partners, especially the International Monetary Fund, the World Bank, the African Development Bank and the ECOWAS Commission, so Minister Kamara is very familiar with Liberia's development partners critically involved in the financial sector.
In addition to his professional experience, Minister Kamara brings to the position a solid academic grounding in Economics. In 2001, he obtained a Bachelors of Science Degree in Economics, Summa Cum Laude, from the University of Liberia. And in 2005, he interrupted his service at the Bank and he enrolled at the University of Ghana, Legon, graduating in 2007 with a Master of Philosophy (MPhil) Degree in Economics. His MPhil thesis was titled "Financial Sector Development and Economic Growth: The Case of Liberia 1960 – 1989, a time period in which Liberia's political economy experienced a high degree of indeterminacy and uncertainty, especially in the decades of the 1970s and 80s, as the country transitioned to democracy.
Minister Kamara is also an academic, and for the last 15 years has lectured or taught courses in the Department of Economics, University of Liberia, his Alma Mater. From 2001 to 2007, he was a Teaching Assistant in the Department of Economics, and from 2007 – 2016, he taught courses in Advanced Econometrics, Monetary Economics, International Economics and Health Economics.
He hailed from Bomi County, Western Liberia, born to Ma Yatta Moore, a market woman and John Kamara David (a driver) now deceased. He began his primary and secondary schooling at the Lorma Community School in Buzzi Quarters, a slum community, and later enrolled at the Seven Day Adventist High School on Camp Johnson Road, Monrovia, subsequently joining the St. Patrick's High School where graduated from high school as salutatorian in 1994.