Details

Published on Monday, 08 December 2014 10:23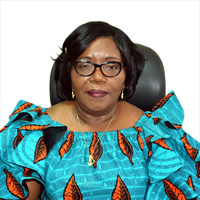 Tanneh Geraldine Brunson is the first Deputy Minister for Budget and Development Planning, Ministry of Finance and Development Planning, Republic of Liberia. She brings to the job significant experience developing and maintaining budgets, having served as Chief Budget Analyst of the Bureau of the Budget (May 1979 to December 1984), managing a team of analysts who were responsible for analyzing the budget of entities providing community services to the public; coordinating the budget development and implementation processes with the staff. Also, as Budget Economist at the Bureau of the Budget (1990), Ms. Brunson was responsible for cost analysis, studying financial request, and evaluating the best methods for accomplishing agency goals, in addition to researching alternative and reasonable funding sources for the spending entities.
Since 2009 Minister Brunson has worked with Liberia's core budget and financial management systems at the Ministry of Finance, where she served as Budget Economist under the Senior Executive Services Program of the Civil Service Agency (CSA). There, she provided guidance for the development and implementation processes of the annual budget; directed and managed analysis of budget information to respond to internal and external queries and provided critical information to senior decision-makers, consistent with government's priorities and financial resources; and as well monitored revenues and expenditures during the fiscal year, and coordinated budget activities during fiscal year end closing.
As Coordinator of Government's Medium Term Expenditure Framework (MTEF) Secretariat (October 2011 to December 2012), Minister Brunson was responsible for the overall operations of the Secretariat.
Prior to her current appointment, Ms. Brunson served as Coordinator, Budget Policy and Development/Budget Economist, Department of Budget, at the erstwhile Ministry of Finance, where she provided support in structuring the MTEF systems, processes and institutional arrangements for the successful implementation of the MTEF in an efficient, sustainable and affordable manner.
A graduate of Atlanta University, Atlanta, Georgia, USA, Ms. Brunson holds a Master of Arts degree in Economics (1989) and a Bachelors of Business Administration in Management from the University of Liberia (1979). She has held several high profile financial management positions within corporate America, including Income Maintenance Supervisor, State of Maryland, Department of Health and Human Resources, Frederick, Maryland, where she evaluated program operations to assess integrity and quality, interpreted program requirements and formulated policies and procedures for implementation, and supervised individuals engaged in establishing eligibility for Federal, State and County Government assistance for services such as healthcare, food, childcare, housing, etc.