Details

Published on Monday, 08 December 2014 10:14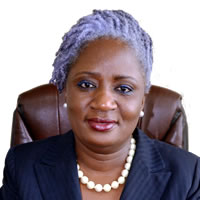 Career Objective: I intend to use my professional expertise to contribute positively to the rebuilding of a sound economic system in my country and elsewhere, focusing primarily on reliable systems and control mechanisms in the workplace, strong accountability principles and procedures, and a managerial technique that utilizes the potential of every team player. I also endeavor to use my long years of experience to enhance human capacity needs that will engender institutional growth and development. The long term perspective of my vision as a professional is to portray a positive image of my country in whatever my undertakings are, and build for myself a mirror image of a model public/private servant, whose motivation is generated from strong family values, hard work, dedication, loyalty, respect for authority and the rule of law.
EDUCATION:
May 14, 2004: Master of Science (Accountancy)
University of Illinois
Urbana Champaign, Illinois, USA
April 2000: Bachelor of Business Administration (Accountancy)
(Magna Cum Laude)
University of Liberia
Capitol Hill, Monrovia
Major: Accounting
Minor: Management
December 1988: Diploma & Certificate in General Subjects (Valedictorian)
St. Mary Catholic School/Ministry of Education
Monrovia, Montserrado County
TRAININGS/WORKSHOPs/STUDY TOURS ATTENDED
August 20, 2015 Participant
Revenue and Tax Policy Principles and practice
Monrovia, Liberia
May 2013 Participant
Africa Tax Forum: Tax Coordination in Africa
Abuja, Nigeria
September 2012 Participant
Study Tour on National Decentralization Implementation
Kigali, Rwanda
October 2011 Participant
Standard Integrated GovernmentTax Administration (SIGTAS) Study Tour
Rwanda and Ethiopia
Focusing on Implementation of SIGTAS In Rwanda and Ethiopia
November 2010 Certificate of Achievement
Workshop on Taxation of Small and Medium Enterprises
International Monetary Fund (IMF)
Accra, Ghana
October 2010 Participant
Third National Conference of South African Institute of Tax Practitioners
South African Institute of Tax Practitioners
Johannesburg, South Africa
September 2010 Certificate of Achievement
Workshop on Transfer Pricing issues
African Tax Administration Forum (ATAF)
Lolongue, Malawi
August 2007: Certificate of Achievement
Human Resource Management for Organizational Effectiveness
West Africa Institute for Financial Management
Lagos, Nigeria
June 2007: Certificate of Attendance
Safeguard Assessment of Central Banks Workshop
Joint Africa Institute
Tunis, Tunisia
February 2001 Certificate of Achievement
Seminar for Bank Supervisors from West and Central Africa
Bank of Ghana/Financial Stability Institute
Accra, Ghana
October 2000: Certificate of Achievement
Financial Markets Instruments and Services Workshop
Central Bank of Liberia
Monrovia, Liberia
Work Experience
October 2014 – Present Assistant Minister for Revenue and Tax Policy
Department of Fiscal Affairs
Ministry of Finance and Development Planning
Duties
• Takes the lead in serving the Minister, the President, National Legislature and the taxpaying community on all tax policy matters
• Responsible for setting strategic goals of the Division.
• Responsible for oversight of revenue and administration performance of LRA and working closely with LRA to improve revenue performance and ensure an efficient and effective policy regime is in place and implemented
• Takes the lead in development and implementation of tax policy proposals, drafting legislation, regulations, procedures and published guidance,
• Assists the Deputy Minister Fiscal Affairs and Minister of Finance in the negotiation of mining, petroleum and other concession agreements
• Oversees the granting of Tax Incentive to eligible business entities as stipulated in the Liberia Revenue Code
• Ensures the provision of economic modeling, including development and maintenance of data bases for tax analysis, development of models for tax analysis.
• Leads on international tax policy development, such as negotiation of tax treaties and tax harmonization within ECOWAS
• Leads other functions, including responding to questions from the National Legislature and coordination with macro-economic and budget offices of MFDP
• Responsible for ensuring staffing of the Division covers all relevant disciplines across areas of economics, accounting, public policy, law and statistics.
July 2013 – June 2014 Acting Assistant Minister for Revenue
Department of Revenue
Ministry of Finance
Duties

• Administered operational and administrative functions of the Department of Revenue including the following:
• Administered the Liberia Revenue Code to ensuring that due and legitimate taxes were collected
• Prepared the Department's annual budget
• Directed the procurement of stationery and supplies in line with the department's procurement plan
• Negotiated contracts including lease agreements on behalf of the DoR/Government of Liberia
• Initiated and followed payments for Department of Revenue's liabilities
• Represented the Deputy minister of Revenue at meetings and functions
• Organized and conducted Revenue Collection meetings
• Worked along with Sector Ministries and agencies in ensuring that Government taxes were collected
September 2010 – June 2014 Commissioner of Internal Revenue
Bureau of Internal Revenue
Department of Revenue
Ministry of Finance

Duties:
Administered the Liberia Revenue Code and all its amendatory provisions including the Consolidated Amendments Act and the Economic Stimulus Taxation Act; with other relevant regulations and laws appertaining; in order to implement the fiscal and economic priorities of Government through the operations of all tax units of the Bureau of Internal Revenue; (Large, Medium, Small, Rural, Real Estate, Sector Ministries Divisions) and other auxiliary units and sections within the Bureau of Internal Revenue.
April 2009 – August 2010 Senior Accountant
Internal Audit
Central Bank of Liberia
Duties
• Planned audit schedule for the section
• Conducted cash count on a monthly basis both at head office and payment centers.
• Verified purchases by General Services Section
• Verified account balances for the Bank
• Reconciled cash officer's ledger with the general ledger to ensure they are in balance
July 2008 – March 2009: Head
General Services Section (GSS)
Central Bank of Liberia
Duties:
Coordinated and supervised the over-all activities of the section.
• Ensured that the physical assets and properties of the Bank were properly maintained and the appropriate records and registers of these assets and properties were kept up to date.
• Negotiated contracts on behalf of the Bank.
• Prepared new contracts in collaboration with the Legal Section and reviewed existing contracts for renewal, termination and/or ensured that contract bill payments were done on a timely basis.
• Planned the acquisition of supplies and other purchases based on the annual budget of the Bank as confirmed by requisition submitted by the various offices, departments and sections of the Bank.
• Prepared purchase orders once approved by management and prepared payment instructions for goods and services that were delivered and/or rendered.
• Managed the Bank's fleet of vehicles and ensured that they were serviced on a timely and regular basis
• Processed vehicle insurance and registration documents.
• Supervised the performance of all contractors assigned directly with General Service Section.
• Inspected the Bank's real properties and reported to management
• Performed protocol functions of the Bank
• Supervised the maintenance of the Bank's Payment Centers in the various counties
• Prepared General Services annual budget
• Prepared work program for General Services Section
• Developed policies and procedures as and when necessary for the smooth operations of the Bank
• Planed the timely purchase of fuel for the Bank's generators and vehicles for the smooth operation of the generators and vehicles
• Ensured the timely servicing of the Bank's generators
• Ensured clean and conducive environment of the Bank
March 2007 – July 2008 (August) Head
Human Resources and General Services Section
Central Bank of Liberia
Duties as Head/Human Resources Unit:
• Coordinated and supervised the over-all activities of the section.
• Administered the Bank's personnel management program.
• Recruited qualified personnel in line with recruitment policy and procedures of the Bank.
• Administered staff benefits and compensation.
• Implemented the Bank's policies rules, regulation relating to staff.
• Ensured that personnel files are opened and maintained for each employee of the bank where copies of all correspondences, memoranda, performance appraisal forms and other documents pertaining to an employee of the Bank would be filed.
• Prepare letters of appointment, commendation, reprimand, dismissal, transfer etc. for the signature of authorized officers of the Bank.
Duties as Head of General Services Section:
All duties stated supra for General Services Section
March 2006 – March 2007: Officer-In-Charge
Human Resources and General Services Section
Central Bank of Liberia
Duties: As stated supra
January 2005 – March 2006: Assistant Manager
Internal Audit Section
Central Bank of Liberia
Duties:
• Conducted cash count on a monthly basis both at head office and payment centers.
• Verified purchases by General Services Section
• Verified account balances for the Bank
• Reconciled cash officer's ledger with the general ledger to ensure they are in balance
• Reconciled staff loan account
• Planned audit schedule for the section
2005 - 2006: Lecturer of Accountancy
Department of Accountancy
University of Liberia
Capitol Hill, Monrovia
2005: Lecturer of Accountancy
College of Business
Don Bosco Polytechnic
Capitol Hil, Monrovia
April 2000 – December 2004: Junior Examiner
Supervision Department
Central Bank of Liberia
Duties:
• Conducted comprehensive examination of each licensed financial institution at least once a year, special and target examination as well as investigation or verification exercise as and when required.
• Prepared examination reports to the board of directors of the examined financial institution.
• Monitored and ensured compliance with examiners recommendation and agreements or MOUs.
• Prepared examination calendar indicating when each licensed financial institution shall be examined.
• Took inventory of assets of seized financial institutions jointly with the Receivership and Liquidation Unit of the Central Bank of Liberia
Special Skills: Computer Literate
- MS Word
- MS Excel
- MS PowerPoint
- MS Internet Explorer